Hal and Melanie Young are back with a chance for you to win a copy of their latest book – Christ-Centered Christmas.
Like We Gather Together, their book about Thanksgiving, this one too sets the focus on Christ.
Quote from the book:
"The New Testament makes it clear that the Jewish holy days are not binding on the followers of Christ. Paul points out that the focus is not on celebration for its own sake, but rather on the Lord.
"One person esteems one day above another; another esteems every day alike," he wrote. "Let each be fully convinced in his own mind. He who observes the day, observes it to the Lord; and he who does not observe the day, to the Lord he does not observe it." (Romans 14:5-6).
That is really the crux of the matter: it is not whether you celebrate or not, but Who is the center of our celebration!" page 5
They build on this foundation by saying,
"For this reason, we have approached Christmas season with two things in mind.
One is to establish our family's traditions that will naturally repeat from year to year and become part of our children's memories even when they are in homes of their own. ..
Second, we've sought out the opportunity to host holiday events for our family and friends." page 6
Like they did in We Gather Together, they go on to give the historical roots for many of the customs we include in our celebrations, which makes this another delightful unit study for homeschool families. They even include Christmas Hymns with a link to the music, so if you are musically challenged like I am you will be able to follow the tune with your children.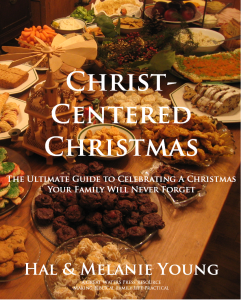 Then there are the recipes. Oh my, I'm going to blame them for keeping me from getting this review out sooner.  I spent quite a bit of time deciding which ones I could smuggle in to our celebrations without disturbing too many of our own traditions.
We share a common opinion of Santa Claus, so I was delighted to see that they include a chapter on him.
And then they discussed the celebration of the Twelve Days of Christmas. To tell you the truth we find a lot of Christian families who celebrate Advent, but rarely anyone who celebrates the Twelve Days of Christmas, so I instantly felt more of a bond with them because this is one of our favorite parts of Christmas.
They call it "Old Christmas", which I had never heard before and since they celebrate this time a bit differently than we do I'd like to toss in a couple of our customs too.
We purchase our tree later than most people and don't put it up until about a week before Christmas because we want to have it last for the twelve days after Christmas and also to keep it from distracting us from the celebration of Advent.
We do some of our Christmas celebration during this time following the day itself because people are usually less harried and can enjoy time together at a more leisurely pace than they can when they are trying to fit in everything before Christmas or on Christmas Eve or Christmas Day.
This has also allowed us to keep Christmas Day for our immediate family.
It has also eliminated the tension about who will be with which set of parents and when. We've all told our children that if/when there is a time that their in-laws want them to join in their customs, we will be the ones who flex to meet their schedule. After all, it isn't the specific date that is important, but the memories made during the celebration.
We'll do a drawing on Monday December 12th so you will still have time to use this for Christmas this year. Just leave your desire to be included and an email address in the comments and we will let you know if you are one of the three winners – yes, they're giving us three copies again to share with our readers.
If you want to get started using the book sooner, go ahead and purchase a copy from their site Raising Real Men. If you are one of our winners they will refund your costs.
Continuing to find Joy in the Journey,
Phyllis
I would love to have the opportunity to keep in touch with you. Please sign up to be notified of new entries and to receive my Free E-zine. (Your address will not be shared)
Please sign up and receive your free copy of Dan's Doodles I 
Phyllis Sather
Proclaiming God's Faithfulness at:
© 2011 Phyllis Sather
All rights reserved
Contact me Phyllis@Phyllis-Sather.com