I had only taken two trips in my entire life until I met Dan, who has been my husband for 31 years. His family had a rich heritage of yearly family car trips. After watching hours of his family's slides I agreed that I wanted our family to travel too.
While we did that before we had children, it all changed after we had one, then two, then three children in five years. We still wanted to travel, but had to find ways to make the journey as much fun as the destination.
Enjoying the journey successfully…
We definitely succeeded, since every fall for 25+ years we have taken a two-week car trip and usually drive 3,000 to 4,000 miles during those two weeks.
We've crisscrossed the United States and been in almost every state. In addition, we've taken our entire family to China and the United Kingdom and France. We've stayed in nice hotels as well as had many adventures wilderness camping.
We've really become world travelers and I don't expect it to end anytime soon. Our guys have added biking to their list of things they love. Last fall they biked 500 miles while the girls and I followed them from town to town exploring antique stores and little shops along the way.
I'm so grateful that we've had all these opportunities to travel and explore. All it takes is curiosity and a bit of creativity. So start saving your pennies and do something fun this summer!
Make sure you click over to Wordtraveling.com and Cast your "Vote for Travel' by entering the awesome $1500 vacation giveaway to the incredible Beaches of Ft. Myers/ Sanibel and to read more posts from other bloggers and family travel experts in our third annual series!
This drawing is now closed.
No purchase or real voting necessary!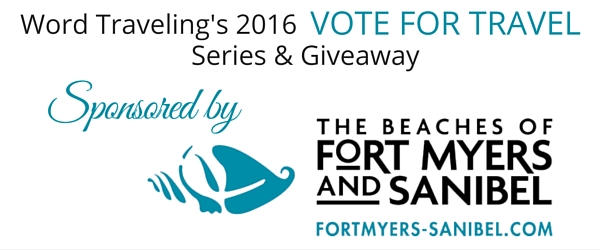 *Terms and prize details can be found at WordTraveling